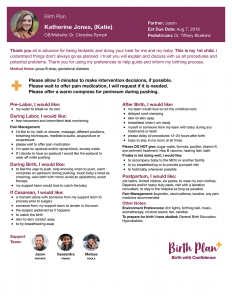 Once you complete the questionnaire in the Birth Plan Plus app your birth preferences will be displayed in our thoughtfully designed template. We designed the template to work for a wide range of preferences. One of our goals was to keep the template to a single page for even the most detailed birth plans. Health care providers can become overwhelmed and exasperated when birth plans start to become birth packets or books. Our template keeps the most important information at the top of the page. It is easy to quickly find your name, photo, partner, due date, and health care provider.
The next template section is an introduction. This is a great place to thank your healthcare team and let them know you appreciate their expertise. The goal is to introduce your birth plan as a guide that they can use to help you have a positive birth. Below the introduction are medical notes, this is where you can note any conditions that could directly impact your birth.
The next section of the plan template is the "highlights" section. Out of all your birth preferences Birth Plan Plus has a list of options that we feel are important to highlight. If you've selected any of these preferences we highlight the top three for you in this template section.
We've finally reached the body of the birth plan template. This two-column section follows the order of the birth, including: pre-labor, during labor, during birth, cesarean, after birth, postpartum, and other notes. This section can contain a lot of detailed information, but the clear titles in the template make it easy to review.
Lastly, the template includes a space for the photos, names, and roles for the people on your birth support team. This is a great resource for nurses or other healthcare professionals to quickly see who's who on your team.
Birth Plan Plus generates your custom birth plan PDF based on your preferences. If you want to further customize your plan, your birth plan can be opened and edited in Adobe Acrobat or other PDF editors.
Birth Plan Plus is designed to help you plan for a positive birth experience in any circumstance. Review the templates below to see how you might plan your birth.